Steven Sørli began his harpsichord making career as an apprentice of the famous Boston harpsichord maker, Frank Hubbard in 1971. He quickly became skilled in all facets of the craft and was especially gifted in the art of decoration. Steven set up his own workshop to design, make and adorn harpsichords individually from scratch. His construction process relies on intuition and ingenuity to ensure a serviceable and singular work of art. The sound qualities achieved by Mr. Sørli are often described as having a distinctive antique tone. Innate artistic abilities contribute to a tasteful blend of color and form that add a complimentary balance to the tonal shades. In 1982 he was awarded a craftsman's fellowship grant from the National Endowment for the Arts. Over 73 instruments have left his workshop and are scattered throughout the United States and abroad.
At the turn of the century, Mr. Sørli began designing many models of the lute-harpsichord or lautenwerk. There are many words and spellings of this instrument including lautenwerke, lautenwerck, lautenclavicymbel and theorbenflügel (theorbo-harpsichord). An example of the plural form is lautenwerke or lautenwerken. This type of instrument was originally fitted with gut strings and sounds very much like a lute or nylon-strung guitar. The response to this revival of the lautenwerck has been quite positive.
The lautenwerk models that have emerged from the Sørli shop reveal a refreshing texture of sound, action and visual beauty. Steven uses fluorocarbon strings which can be easily altered to sound identical to real gut. The bass octave is fitted with copper-wound nylon to provide a deep resonant effect. The decor incorporates the natural beauty of the woods used and all the finishes are organic and non-toxic.
Mr. Sørli is also the first harpsichord maker to resurrect the keyed lyre or clavicytherium with an open lyre. This upright instrument is inspired by the oil painting "Marcantonio Pasqualini Crowned by Apollo" by Andrea Sacchi (1641). It has one choir of 8' gut or synthetic gut strings with a range of GG-d3. The total height is 81" and takes up only a 37" by 18" floor space. The sound from the small soundboard just above the keyboard was frequently described as "magical" at the Boston Early Music Festival. The sound has a sweet, hollow, vocal quality that radiates out from both sides of the soundboard when the back lid is open. This instrument resembles a lute and harp in sound and is amazingly versatile. Place your order early for one of the musical sensations of the century. Recent owners of the Sørli clavicytherium are Peter Sykes, Julianne Baird, Mark Shuldiner, Margaret Irwin-Brandon, the Conservatoire de Musique de Genève and Cristina Banegas of Uruguay. Listen to 20 minutes of this unique sound in the "Sound Samples Page". You can also view and listen to Ryan Layne Whitney playing his clavicytherium on YouTube: Click Here For Video
The standard decor includes birds-eye maple key tops with carved key fronts, walnut sharps, stained and painted case, intricate parchment or gilt cast rose, elegantly turned legs and tasteful music desk. Also included are plastic jacks (wooden optional), unique transposing system (allowing some jacks with no dampers), regulating tools and a padded moving cover. Harpsichords can be made to withstand a humidity range of 40%-90% or 10%-65%. Many standard models are available to order and the customer is encouraged to custom-order an instrument to suit their specific needs. Check the Available For Sale page for the instruments currently available for delivery.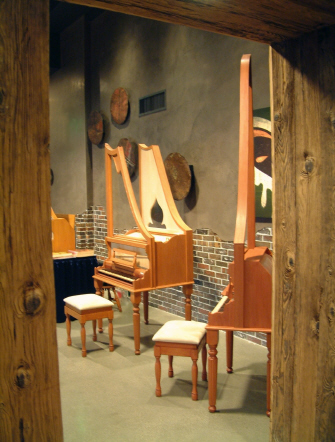 Clavicytheria at the Boston Early Music Festival 2013