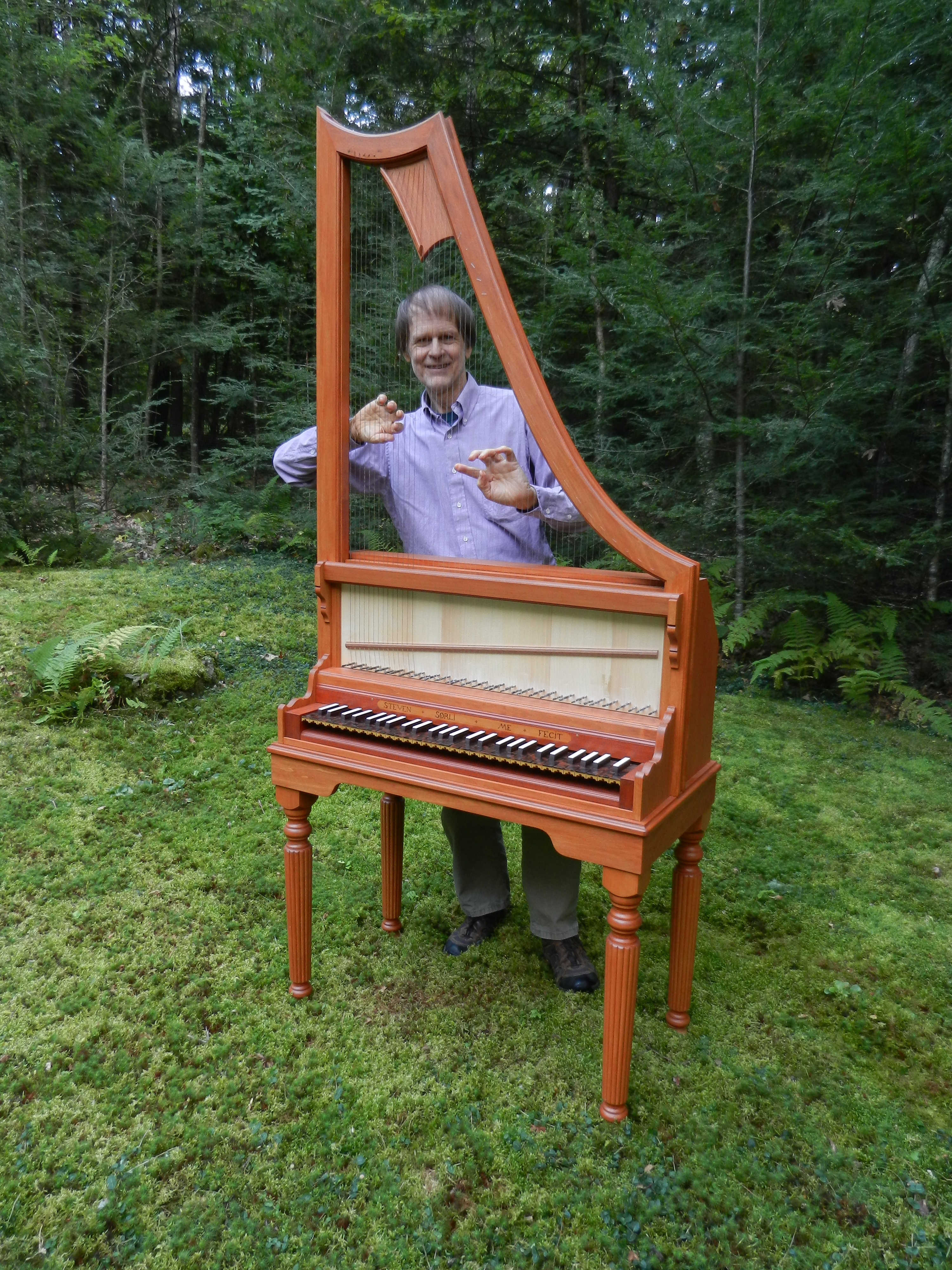 RAVE REVIEWS
"Steven Sorli's Ottavino is a joy to play and to listen to. The instrument has an impressive sound output, sings throughout its registers, and has a delightfully clear and pleasant voice, perfect for the performance of both polyphonic and homophonic repertoire. The action is extremely responsive, and Steven's meticulous regulation and voicing make the job of the performer very easy. The instrument is well suited for many kinds of repertoire, and would make as wonderful a practice instrument, ideal for its size and clarity of speech, as it would a concert instrument. I can't recommend this little gem enough!-
Juan A. Mesa, Assistant Professor of Music Performance (Organ and Harpsichord) Wheaton College, Norton, MA
"With great joy and determination I selected Mr. Sorli's 2001 Theobenflugel Double as my musical companion. Like all of Steven's instruments, I would consider my Theorbenflugel to rival the finest instruments I have touched...except for the fact that it does not rival, instead it surpasses, exceedingly! For reasons already expressed by all who play and love his instruments, I too, appreciate their range, sustain and transparency. As I have always made clear, in order for a keyboard player of any kind to be able to express their voice, the single-most critical factor is to play on a responsive instrument. Yes, it can be valuable to have an instrument with a beautiful sound, a stunning visual design, relentless stability and a unique personality - alas, if it cannot respond to one's touch at the electric level, the musical process is destroyed. I have grown up playing many different keyboards of various makes. Once I became familiar with responsive instruments, I soon learned how many modern keyboards completely miss this mark - the fundamental ability to efficiently respond to human touch. Instruments that exhibit each of the aforementioned qualities (including reponsiveness) DO exist. Are they able to match the level of quality found in Steven Sorli's harpsichords? Now THAT is what I call an impossible task! People who have come to hear my instrument walk away not only marveling at the exquisite sound, beauty and narrative of it, but also inspired from my own personality found in the music which they have not heard elswhere. For this, I give Steven Sorli my utmost devotion and respect. Without his crafsmanship, I would not even be able to hear the potential of my artistry, as I had only truly discovered it through his instrument. I yearn for the day when I am able to play Sorli harpsichords exclusively in the light of period instruments; a substitution, to me, is no longer practical or possible."-
Sebastian Bottone, Composer and Keyboardist, Tiverton, RI.
"My 2016 Sorli pedal clavicytherium, pedal board, bench and stand for supporting a manual harpsichord (in this case a pre-existing one by a different maker) were all custom fitted to suit my needs. My personal dimensions, the way the accidentals would be shaped and how they would relate to the naturals, the height and width of the bench, the dimensions and design of the stand all had to be taken into consideration. Steven did all of this to perfection. The pedal action is light and sensitive, the same as a harpsichord action, without springs to aid the return. The bench and stand are strong and beautifully made. The clavicytherium is clean-looking, slim and attractive, and its action works flawlessly and quietly. The sound of the main 8' is full, reedy, penetrating and never tiring to the ear. The second 8' can be added to it by a hand lever whenever the player desires. The clavicytherium has a back lid that can be kept closed, partly opened, or fully opened, as the player desires. There's a tuning keyboard in the rear of the clavicytherium at floor level just under the pin block. Having the pedal strings behind the player, instead of the more usual location under the manual harpsichord, gives an attractive spatial separation between the two instruments and helps make the pedal line that much more distinguishable from the manual sound."-
Ed Parmentier
"I am so grateful to Mark Shuldiner for letting me borrow his gut-strung clavicytherium, and above all, to you Steven, for creating such an exquisite and responsive instrument. I have found my 'voice' in this instrument in a way that I haven't been able to before on any other harpsichord. Some of my favorite Bach pieces, like the BWV 998 and the e minor suite, BWV 996, finally make sense to me! It has truly been a joy to play and I will miss having it in my living room."
-Jason Moy, Depaul University School of Music, Chicago
"In addition to having a beautiful design, Steven Sorli's new clavicytherium is poetry in motion. It has an expressive range from purely lyrical to aggressive, it sustains like a harp and plays runs like greased lightning. This instrument was the hit of the exhibition: I couldn't tear myself away from it--on the rare occasions when I could get my hands on it in the first place, that is!"
-Beth Garfinkel, DM in harpsichord from Indiana University '07
"I am writing to tell you how much I continue to enjoy owning and playing my clavicytherium. It is a very popular instrument among my students and friends. Especially gratifying is the large variety of repertoire that "works" on the clavicytherium, which has changed the opinion of a few people who assumed that it would be appropriate only for limited repertoire. The instrument is versatile, expressive (depending on how it is played, of course), and easy to care for."
-Ryan L. Whitney, Seattle, WA
"The clavicytherium is giving us all great pleasure. The tone is beautiful and the action provides perfect control. It makes me feel like I am playing a lute or guitar - but with the facility and compass that a keyboard can provide. Thank you for making such a wonderful instrument."
-Karl Habermeir, Classical Guitarist, Rockville, MD
"Just a note to inform you that the instrument arrived safe and sound (and still in tune!) on Wednesday. The Clavicytherium looks really good and the tone is beautiful. Everyone who has heard or played the instrument is very happy with it."
-Francis Biggi, Head of Early Music, Conservatoire Superieur de Musique de Geneve
"I never grow tired of playing on this lute-harpsichord. The sound is so pleasing that the time I spend practicing literally flies. It has cleaned up my playing considerably and has changed the way I hear music. Hitherto, with few exceptions, J. S. Bach harpsichord pieces were, to me, little more than finger exercises. My lautenwerck has caused me to hear more like a lutenist/guitarist. The subtle space between the notes has become as important as the notes themselves. Taking time to allow a phrase to bloom, to gracefully wane, and begin again, this is an aural lesson that only a fine instrument can teach. I am grateful to you for providing me with this patient teacher and an enthusiastic musical companion."
-J. Mark Dunn, Staten Island, NY
"As an organizer of an early music vacation workshop and as a recording engineer, I have encountered enough of Steven Sorli's keyboard instruments to have a fair idea of what they're about. They are meticulously regulated and voiced. The fine architectonics and 17th and 18th century color schemes of these harpsichords and lautenwercke draw one's appraising eye in a most pleasing way. The latter lute-strung singles and doubles have a rich, fundamental presence that fully supports and enriches music involving strings and winds. The sound lends itself to vocal accompaniment, in part because the cues one perceives strongly resemble those of an archlute or theorbo."
-Christopher Greenleaf, Rhode Island
ssorli@gmail.com